Tools
How to get Loom for students
The popularity of using online tools for educational purposes has risen over the years. A loom is a screencasting software that lets students and teachers connect anywhere and from any location. It is a platform that works on Mac, Windows, and mobile devices. Loom is a very easy and simple tool that educators can use to personalize digital classroom.
Loom comes with various features and capabilities that make it one of the desired tool for learning. It is useful for educators at all kind of level. With Loom, they can introduce the concept of video messaging into the classroom. A platform is a great tool for students and this post will guide you on how you can easily get Loom for students.
Loom for students: Overview
Loom education is a solution that is strictly designed to be accessed and used by students and educators. It helps to facilitate communication in schools whether the participants are on or off-campus. This software used to screen and video recording to establish communication. Teachers can record themselves using the record front-facing camera and then share the links with students.
Some of the best features of Loom for students are collaboration, commenting, video sharing, animation previews, and many more. It is software that provides every tool needed for a successful online learning process. Students or educators using Loom can use trim or copy videos and share them.
Loom has an interface that is easy to use. Students that aren't familiar with screencasting software will have no challenges whatsoever. When using, they can change the recording styles any way they wish. Loom takes learning online to a new level. It is a great application that enhances students learning experience.
How to get Loom for students
Loom is a platform that allows students and educators to connect and interact using video messaging. Students can get and sign up for this software easily. To get started, the first step is to visit the Loom for education. Once you are on the page, click on the Get Loom for Free button on the page to proceed.
The next page is the signup page. You can sign up via your Google, Slack, Apple, Outlook, or Email.  Ensure to use your school's email if you are signing up via mail. Choose the one you want and click on create a free account to continue. You will have to wait for account verification.  Once your account has been verified, you can now begin to use Loom free of charge.
Features of Loom
Loom is a solution that helps educators in institutions to connect with students for classwork. It is an effective and efficient educational tool. The free educational plan of Loom comes with the following features:
Unlimited videos
Unlimited viewers
45 minutes video recording length
Shared Library
Drawing tool and mouse emphasis
System audio
Calls to auction
Viewers insights
Face and cam recording
Custom recording dimensions, and so on.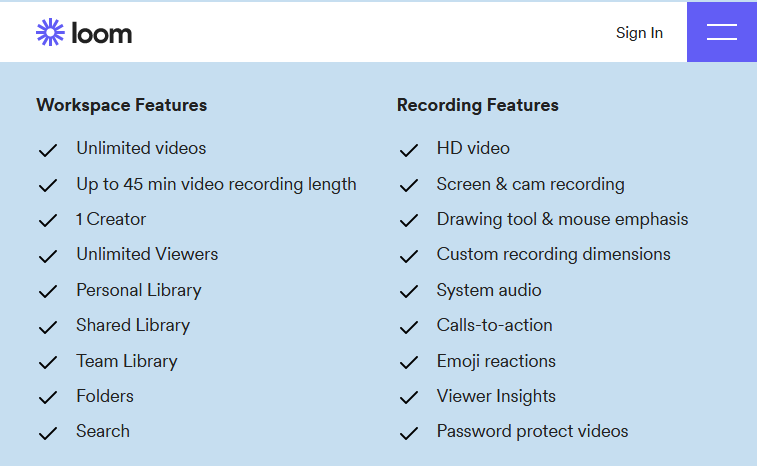 Pricing of Loom
Loom is totally free. They have a pro version that is also free for students and educators. All verified schools or institutions can use Loom free of charge for classwork. They can use the education plan of the software without having to pay a dime.
How Loom can be beneficial to students
Loom software offers a free account for students and teachers. The account comes with lots of features that can help them in many ways. Few of the benefits of Loom include:
It is highly intuitive and easy to navigate.
Recording in HD is possible.
Videos uploaded can be protected by passwords so that it can only be accessed by specific email addresses.
Students using Loom can use the software on their computer or mobile devices.
It has three recording options which are the screen, the face or both.
There are various sharing options on the platform.
Videos made with Loom can be embedded on websites or blogs.
Students can comment on videos with emojis or texts.
There are no watermarks on the free version.
When recording videos, the trim tool can be used whenever there is a mistake. This is to avoid having to start over after making an error.
Conclusion
In summary, Loom is an effective educational tool that is available for free to students and institutions. It is a platform that can be used to record presentations, teach, and monitor students. This tool is popularly used in most schools for educational purposes. Students can create a free account on Loom and become a user of the platform.
Related: