Microsoft
How to download Microsoft Teams for students
Microsoft Teams is a platform that lets individuals like students, educators, team members create and share resources together. It is a simple and intuitive software that is part of Office 365 software. Microsoft Teams is very useful software in education as it aids online learning. It is one of the best collaboration software that is used in schools. It can be helpful to all students irrespective of their levels. Its simplicity makes it a great choice for learners of all ages.
There are tons of collaboration software that is used in schools and Microsoft Teams is one of the most sought after. It has great features and functionality that makes it a great tool for students and their teachers. This post will dive into everything there is to know about Microsoft Teams and how students can become users on this platform.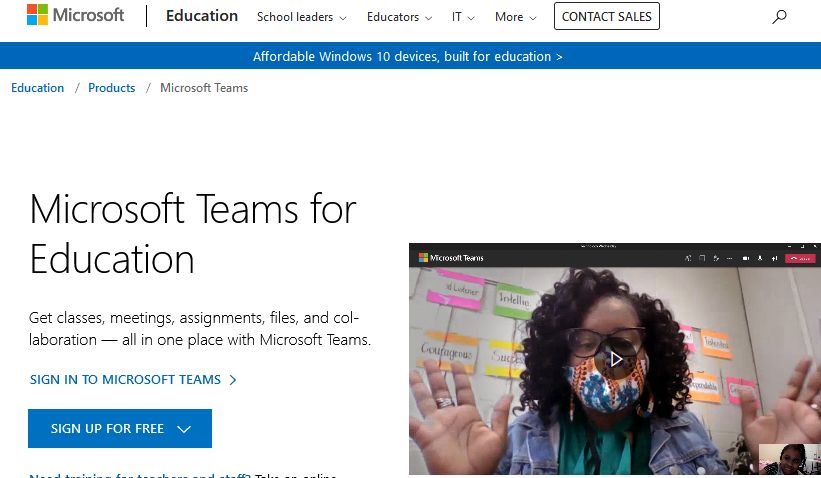 Microsoft Teams for students: Overview
Microsoft Teams is an education solution that allows students and teachers to collaborate online. The platform has features like online meetings and document sharing that is extremely useful for learning online. It is a great platform where students and teachers can connect in or out of the classroom. They can connect everywhere and at any time of the day. They can establish communications, share resources and make decisions.
Whether students or teachers are physically together or not, they can collaborate in one hub. They can set face to face meetings, perform activities, and many more just to keep the class connected. Teachers can connect with about 300 students for educational purposes. They can organize classes, share materials, assignments and do so many things. Microsoft Teams is a safe and secure platform that can be used for learning.
Features of Microsoft Teams
Microsoft  Teams is a platform that lets students meet with teachers online and collaborate. It is a solution with useful features that enhances education. This tool is an effective and efficient way that educators can interact with learners. There are various features that make Microsoft Teams stand out from others and these are:
Whiteboard: Students and educators can collaborate on a shared digital canvas. The whiteboard is integrated into Microsoft Teams and it allows for enhanced collaboration.
Together mode: Educators can view the whole class together and this can help with presentations or group discussions.
Assignments: These lets teachers assign and track homework they give to students. They can as well grade their projects or work.
Breakout Rooms: This feature makes it easier for teams to work together. The teacher can divide the class into smaller groups to make discussions easier.
Raise your hand: This is a way for students to get the attention of the teacher without totally disturbing the whole class. They can keep their hands raised and the teacher will get back to them when they have time.
Screen sharing: This feature makes it possible for the screen to be shared in real-time on Microsoft Teams.
Customize backgrounds: Students can blur their meeting background while attending a class. They can upload another image as background while using Microsoft Teams.
Insights: Teachers using Microsoft Teams can access the engaged data of all students from the dashboard. The dashboard is intuitive and can be of massive help.
How to get Microsoft Teams for students
Microsoft Teams is a central place where teachers can organize live class sessions, quizzes, homework, events and many more with students. It is a simplified platform that aids learning online. Students can easily sign up on this platform and connect with their educators and fellow students.
To sign up on this platform, the first thing to do is open your web browser and go to Microsoft education. Click on the Sign Up for free in the middle of the page and then choose Students and Educators from the drop-down menu. The next page will display and ask you to input the email of your school. Enter the email in the box and click on Sign Up. Once you do this, follow the following instructions to become part of the Office 365 community.
When you get Office 365, you will have access to software like Microsoft Teams and other Office software. This is the way to access the Office education plan that is available to students and teachers.
Pricing of Teams
Students and teachers can sign up for Office 365 without any charges. They will have access to Microsoft Teams, Excel, Office, PowerPoint, and OneNote. Student in eligible institutions can begin to use Teams without paying a dime. Ensure to sign up with your school's email.
Microsoft Teams for students: Conclusion
Finally, Microsoft Teams is an extremely user-friendly software that helps to facilitate communication between students and teachers. It lets students learn from anywhere. They can have live video, chat and share resources on or off-campus. This post has explained how beneficial this software can be to students. Signing up is very easy and can be completed as written in this post.