Microsoft
How to Get Windows 10 Student Version
If you are a student and long to use the new Windows 10 operating system, you are in luck as Microsoft has created a way for you to get it free. Therefore, let us share in this article, how you can get Windows 10 student version. Furthermore, Microsoft designed the Windows 10 Education for students to get them ready for the time they would start work. This education plan has more features than Home or Pro. And it is a strong version that you can download free as long as you are a student or member of faculty and your school qualifies for the program. Additionally, it has an improved Start menu, the new Edge browser, enhanced security, and so on.
Besides, all Windows commercial editions like the Windows 10 Pro and Windows 10 Enterprise can be configured to support the needs of schools, through group policies, domain join, and so on. However, version 1607 has two editions.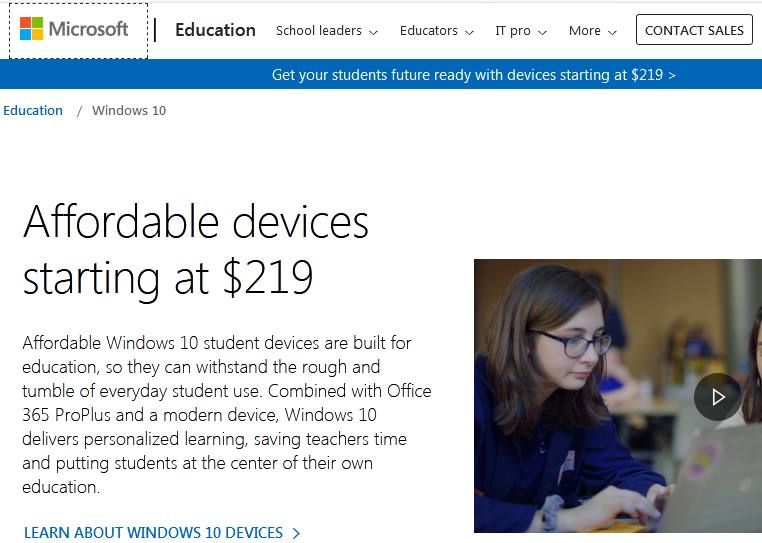 Is getting the Windows 10 student version free?
They are Windows 10 Pro Education and Windows 10 Education and they offer specific default settings for K-12 education IT environments. Moreover, Windows 10 gives you an array of new features and functions like easy provision for Setting up School PCs app or Windows Configuration Designer. Also, it is simpler to give digital assessments with Take a Test and quicker log-in performance for shared devices. Besides getting the software is simple through your school or university. So, if your institution is eligible then you will get the software.
Some eligibility criteria include being enrolled as a student or faculty staff member or a qualified higher education institution, academic verification by approved sites online, and having a Microsoft ID. To proceed fast on this post, and to show you how you can get the windows 10 version, let us unveil the steps right away
Downloading Windows 10 student version
Let us begin the steps for getting the Microsoft Windows 10 student version software of this epic software.
Start your Internet browser and go download "Microsoft Windows 10 Education " their official website.
Log on to the website and validate your eligibility by clicking on "find your school". To do that, enter your country, university, and department, to see the list of software offerings available.

Enter your school email in the field.

Next, visit your University's Webstore to see all available offerings.
And Click on get "Get Windows 10 Education".
Also, type in your Campus Username and Password.
And, also click on Start Shopping.
Then click on the Windows 10 icon.
And Click on Add to Cart.
Also, make a decision if you want to get extended access that gives you 24 months of access to the key and download. Or not and then click on Check Out. (Note that you can only get the free Windows 10 product key and download for 30 days free)
Now, read the user acceptance form and scroll further down.
Next, enter your Campus Username, then type in your Name before you Click "I Accept".
Now Scroll down and verify that your contact information is correct. If you are okay with it, then click "Proceed with Order" to get the Windows 10 student version.
Then scroll down to find the product key. You can either print it or take a screenshot of it for your record purpose before you Click on get started.
Also, read the Notice that there is an expiration date to access your product key and the download even though the product key does not expire. In addition, you will receive an email telling you how to retrieve your key and download it from Microsoft.
Finally, follow the instructions that concern you. And when the Upgrading to Windows 10 Education page comes up on the screen, go ahead and select your choice and click on the link that fits your situation, and then follow the onscreen instructions to install Windows 10 student version on your desktop computer.
That is how to get the Windows 10 student version.
And, if you need installation help, visit the Windows 10 Help article from Microsoft.
But, if you need more help and resources, see Microsoft Windows Help & Support article.
Conclusion: Windows 10 for students

In this article, we explained how to get the Windows 10 student version license. You get it by making sure your school is eligible. Also, you must search for the Microsoft Education webpage and confirm your school's eligibility. And then sign in to your college's online store using your higher institution's username and password. And then start shopping to get the software.
Related: