Software
CATIA V5 Student Version – Full Version (Windows/Mac)
CATIA is one of the leading engineering and designing software that is used for 3D CAD designing. It is a powerful tool that is useful in designing, simulating, analyzing, and manufacturing products in various industries. Whether you are a student or professional, CATIA is a powerful must-have tool. This software is useful in industries like automotive, aerospace, industrial machinery, and so on. CATIA student version is offered by the company to empower students with the necessary skills and expertise that will be of help in the world.
This CATIA software is everywhere and has been of use in the development of thousands of projects. The software is developed by the French company Dassault Systemes.  CATIA is the leading industry software in CAD/CAM/CAE. It supports different stages of product development such as conceptualization, designing, engineering, and manufacturing. This post will guide you on how to download the CATIA student version.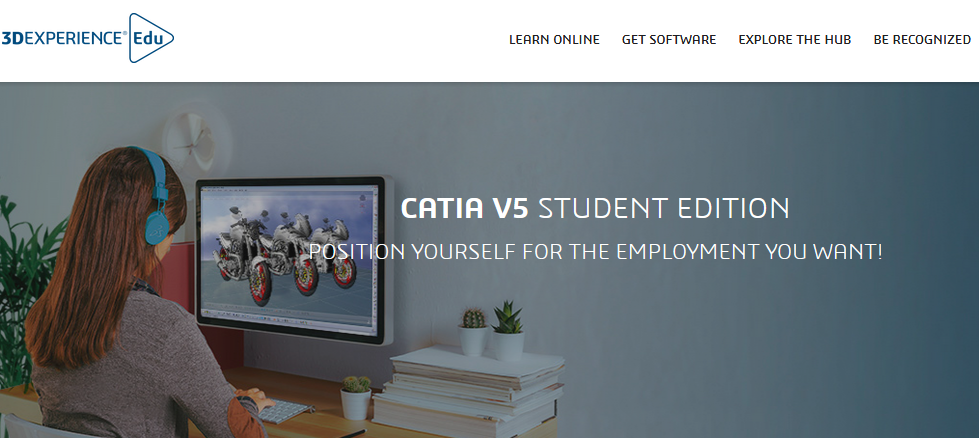 CATIA student version – Overview
CATIA is a multi-platform software that was developed by Dassault Systemes. It is useful for computer-aided manufacturing, computer-aided design, computer-aided engineering, 3D, and PLM. It is also known as a 3D product lifecycle management software.  Just like all CAD software, CATIA facilitates collaborative engineering through cloud service and can also be used across various disciplines.
It is an effective tool for surface and shape design, mechanical engineering, electronic systems design, and systems engineering. CATIA has been popularly used by Frank Gehry to design his curvilinear buildings and Gehry technologies. CATIA has been useful to many companies as the primary 3D design for lots of companies. It is a leading-edge technology that has contributed greatly to powerful inventions.
As a student, knowing how to use this leading software will equip you with the necessary tool in the industry. It will teach you how to design from scratch and use the experience from former designs.
How to download the CATIA V5 student version
CATIA is software that allows the development of high-quality mechanical products. As a student, you need to develop yourself by getting familiar with leading technology in the industry. CATIA offers an engineering toolset for lots of disciplines within a working environment.
There is a CATIA student edition available for this software and students can get one year of access. You should visit the Dassault Systemes website, then scroll down and click on the back to school offer 2020.  The back to school season gives students 1-year of free access to the 3D experience. It is a limited license that can run out anytime so it is advisable to get it on time. To get a student version, you need to choose the right solution for you.
With the student version of CATIA, you can get access to need tools that will help your engineering career.
Features of CATIA
There are lots of amazing features of CATIA which include:
Global Collaboration
Instinctive 3D Experience
Social Design Environment
Cross-Discipline Development
Product Modeling
Systems Engineering
Unbreakable Relational Design
Product Design and Styling
Integrated Multidisciplinary Approach
Advanced Surface Modeling
Capture Manufacturing Process Intent
Engineering
Benefits of CATIA for students
CATIA can be of numerous benefits in numerous industries. As a student, when you download CATIA software, it gives you access to tools that will let you explore and design new ideas. The software has 3D sketching functionality that students can use to bring 2D sketches and generate ideas. Students who want to improve their virtual experience can create quality renderings using some of its functions.
Students can make use of the software collaborative tool to actively participate with themselves even in different locations. They can access their projects via 3D dashboards. CATIA is a multi-platform that can offer engineering and architect student multi-discipline modelling. The platform also offers them the necessary flexibility to integrate 3D processes.
When you get the student version of CATIA, it can help them expand their insights when using 3D modelling tools. They have the ability to conduct analysis within environments via prototyping and simulation.
System requirements to download CATIA V5 student version
Every software has its own requirements before it can operate effectively and efficiently. Before you download the student version of CATIA, you need to ensure your system meets the requirements of the software.
CATIA does not work on Mac OS or a virtual machine. It runs on Windows 7, 64 bit, Windows 8 64-bit, and Windows 10, 64-bit. You can check for more information about software requirements.
Conclusion
In summary, you can easily get the CATIA student edition. Students can use this software for analyzing, designing, and also manufacturing products. It is one of the leading software in the industry and learning it will give students an edge in the professional world.
Related: