Software
How to Get Final Cut Pro Student Discount [Updated]
In the post, you will learn how to download the Final Cut Pro student version at a discount. Apple's Final Cut Pro X is a video editing software for professionals, while Logic Pro X is an audio workstation for professional music production. Also, Motion 5, Compressor 4, and MainStage 3 are tools for making 3D animations and effects, modifying output settings and building setlists. Besides, you can release your creative potential using the Pro Apps Bundle for college students, teachers, and education institutions that are eligible. Furthermore, Apple has arranged for you to get all five professional applications for video and music creation at a special price of $199.99. Yes including Final Cut Pro X, Motion, and Compressor, Logic Pro X and MainStage.
The software bundle is for teachers, faculty, staff, and students at universities, colleges, and K-12 schools in the United States. This is a huge savings of up to $400 considering that the software price for Final Cut Pro X alone is $299.99, Logic Pro X costs $199.99, Mainstage 3 costs $29.99 and Compressor 4 and Motion 5 both sell at $49.99. But you must buy the bundle from Apple Store for Education and get the software by email in 1 to 3 business days. We know that you can get the Final Cut Pro X download in a 30 days trial, but it is not the same with having a license to five award-winning apps. But you must verify your eligibility and enter your credit card details to get them. Let us show you how to get the Final Cut Pro student immediately.
System requirements for Final Cut Pro for students
Final Cut Pro X works in a Mac with macOS 10.13.6 or older, 4GB of RAM (8GB recommended for 4K editing, 3D titles, and 360° video editing), OpenCL-capable GPU graphics card or Intel HD Graphics 3000 or later, 256MB of VRAM (1GB recommended for 4K editing, 3D titles, and 360° video editing), 3.8GB of available disk space. See the details, of minimum system requirements.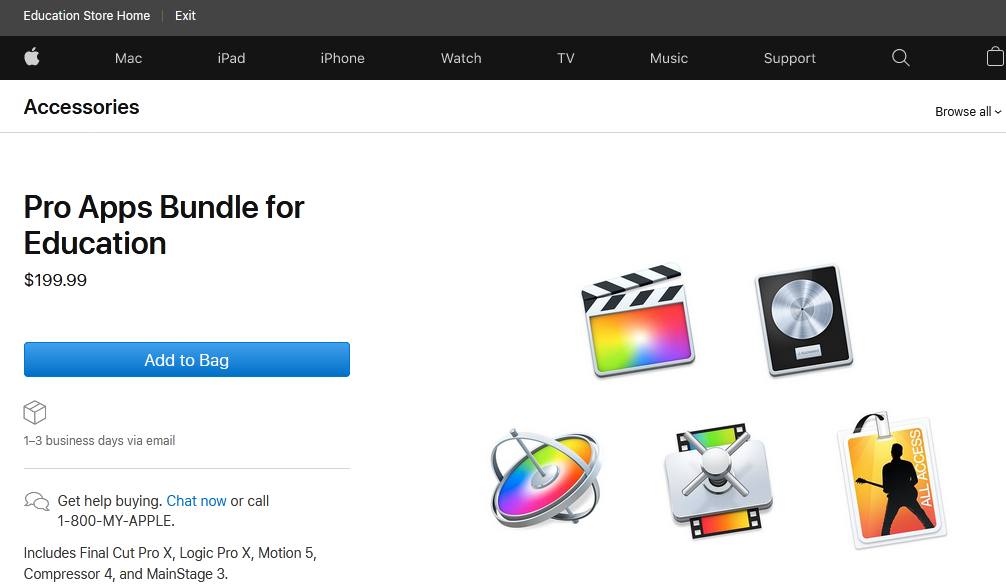 Steps to Download Final Cut Pro student software with discount
Go and sign up online at UNiDAY to verify your eligibility. (UNiDAYS is a website that has only student deals. Use your University email address (.edu) to enrol.) After verifying that you are a student or educator then you can visit the Apple education store.
Visit the Apple for education web store link in the US and look for your school store.
Then proceed to your University or College store. (Note that your college must register an Apple Education Account and you must register with your college store to be able to shop there.)
So, sign in to your college store to buy the Final Cut Pro student at discount.
Next, choose preferred devices or software, in this case, the Pro Apps Bundle for college students.
And then verify your current student or staff status with UNiDAYS by clicking on the 'Get started' tab.
After the verification, if they confirm that you are eligible, then place your order for the software bundle. Use the link for your country to reach the software. Here is the link for the USA to take you to the Pro Apps bundle for education.
Click on "Add to Bag". Also, choose whether you will pick up the software in an Apple store.
Next, enter your Apple ID and password or click on Continue as a Guest

And enter your Zip Code to get an estimated time of delivery before you. Then click on Check Out. (You can pay with a Credit card, purchase order, or P-card. You can also enter a promo code if you have one).
Just follow onscreen instructions to enter your payment details and pay for the software.
After paying and the verification of your credit card is complete, the store will ship the pro-Apps bundle for education to you in 3 days by email.
Finally, install it in your MacOS and start using your Final Cut Pro student discounted software.
Conclusion
In this post, you learned how to download the Final Cut Pro student version with a discount. To do so, you have to enrol in UNiDAYS to confirm eligibility. Also, you need to register with your college Apple Store and locate the apps bundle. Pay for it with your Credit card and then get the application by email between 1 to 3 days. We hope the tutorial will help you get the software easily.
Related: