Software
How to Get Lucidchart for Student
This post will give you the steps to take to get a Lucidchart student account. So what is Lucidchart? Lucidchart is an online platform where you can use the software, to draw diagrams that reproduce the visual models you have in mind. Also, after creating the diagrams, you are allowed to share your document with another user of the platform. Additionally, you can integrate with diverse operating systems like Slack, Gsuite, Microsoft Teams and so on. Furthermore, Lucid Software offers full-Educational Accounts with professional features to teachers and students free. With this tool, Teachers could easily create lessons plans and also help the students brainstorm, concept maps, and group work. And if you use visuals to learn, you can see how concepts are linked. For example, some Lucidchart features include Venn diagrams, curriculum flows, and entity-relationship diagrams.
There is no doubt that these diagrams will improve the way you teach and students learn in the classroom. Besides, if you work in the education sector and wish to get a free account, you can get in touch with the Education sales team. But, if you are in the primary level of education, you can still get an educational account by registering for a free account using your educational email address. And once you do that, you will be upgraded from K-12 to the free Educational Account. So, to advance further in this article, it is now time to reveal the steps for getting the Lucidchart for a student immediately.
System Requirements for using Lucidchart student account
Mac: OS X Yosemite 10.10 or later.
Windows operating system: Windows 7, Windows 8, Windows 8.1, Windows 10 or later.
Linux: 64-bit Ubuntu 14.04+, Debian 8+, openSUSE 13.3+, Fedora Linux 24+, or later.
Chrome OS: Supports the latest version of Chrome OS. iOS: iOS 11, iOS 12, or later.
Android: Android 5.0 or newer.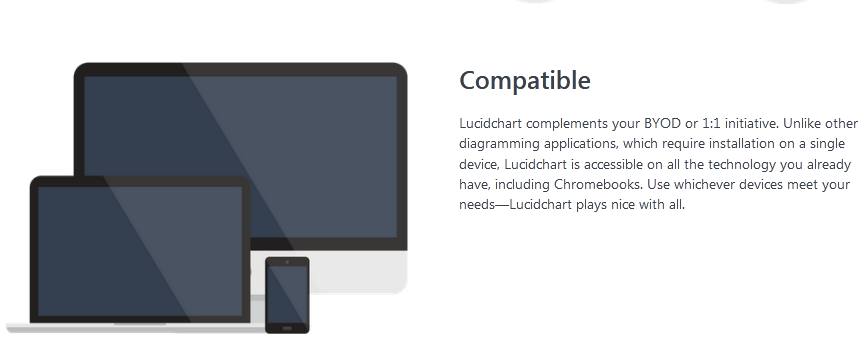 Steps to get Lucidchart for students
Go to the Lucidchart educational page and click on "Sign up free."
And then use your .edu email to create a free account by clicking on "Start Free Account."
After creating your account, click on your name in the top right part of the page and go to "Account Settings."
Next, click on "Get a Free Educational Upgrade" in the bottom-left part of the page.
And at once, you will receive your confirmation email. So, click on the link.
And then start creating those Lucid charts because now have the Lucidchart for students.
Recent Changes to Lucidchart Educational Accounts
The management of the education accounts has become cumbersome because yearly, students graduate and leave school and wish to keep the diagrams that they had created. So, Lucid Software had to move all users that were formerly in the EDU team accounts, to individual free education accounts.
And to keep vital data, all the student has to do, is share the document again to verify their claim. Moreover, their usernames and access password stay the same.
In addition, university teachers and students can ask for an upgrade after registering for a free (non-EDU) Lucidchart account. But, if the university or students still want to keep a single account for its students, they can get the Lucidchart for students by using an EDU premium account.
Features of the Lucidchart pro plan
You have unlimited documents
Unlimited shapes
Also, you have 1 GB of storage
Visio import/export
plus Revision history
Premium shapes
Presentation mode
And the Chart A.I.

Learn how to use Lucidchart software for students
If you want to learn how to use the Lucidchart for a student, go through some basic resources that will help you use the software and platform with ease. Therefore, you can explore these resources.
Conclusion
In this post, we explained how to get Lucidchart for students. It is as simple as visiting the Lucidchart educational page and then creating a new account with your .edu email address. And once you get a confirmation link and confirm it, you now have an educational account and can start creating those spectacular Lucidchart that simplify learning for you the student and your teachers.
Related: