Services
How to get Duolingo for students
Online learning is fast dominating the traditional approach to learning. People now opt for the easy and fast way of taking classes online. E-learning is an easy, flexible, and comfortable way of learning. There are lots of applications out there used for making this kind of learning possible. In today's world, you can learn a foreign language from the comfort of your home. Duolingo is among the tons of applications that can make that possible. Duolingo is a free software used by students and individuals to learn any kind of language. You can access the software anytime and anywhere.
Duolingo is a leading application used to teach people languages like Spanish, French, German, Portuguese, and many more. It is a very good platform that delivers great contents to its users. Duolingo is one of the best software out there to learn a new language and we will guide you on how you can get started as a student.
Duolingo: Overview
The Duolingo language software was founded by a professor (Luis Von Anh) and his student (Severin Hacker) at Carnegie Mellon University. It was launched in 2009 and it has been in existence worldwide since then till now. The application is one of the most popular language-learning platforms and has more than 500 million users. The mobile application of Duolingo is available on both Android and IOS. It also has a version that can be accessed via browsers. The best thing about Duolingo is that the platform introduces Gamification into learning. They teach language is a fun and addictive way. Students with intention of learning a foreign language will find this software exciting.
Duolingo also introduces the use of images, writing, flashcards, audio to introduce new words, sentences, and phrases to their students. The application also makes students stay motivated by getting involved in the weekly race on the leaderboard. Once you become a registered user of Duolingo, you can connect with your friends and have knowledge of their progress. This is to help students stay motivated and inspired in completing their lessons. You can learn at your own pace by customizing Duolingo and setting your daily goal.
If you are a student that wants to learn a new language from the scratch, then Duolingo is a place for you to get started. You can learn the basics of the language and be able to hold a proper conversation with others.
How to get Duolingo for students
Getting started on Duolingo is quite easy for students. The first thing you need to do is to navigate to Duolingo for schools. Once you are on the page, click on the Get Started button in the middle of the page.  You can sign in with your Google account or simply create an account. Input your full name, email and set your password.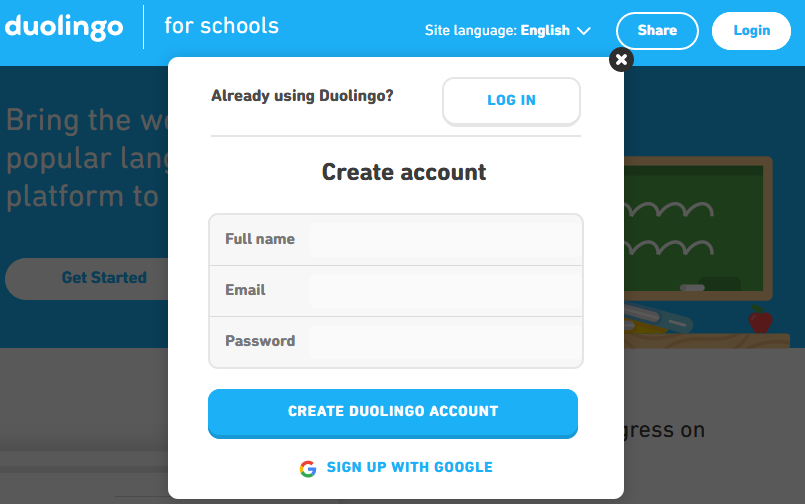 After doing this, you will have to choose the language you want to learn with your students Duolingo account. After signing up, you will have your first lesson and you are now part of the Duolingo family. You will have to log in every day to keep your streak going and also engage in weekly leaderboard challenge.
For easy access to learning, it is advisable to download the Duolingo mobile application. As long as you have an internet connection, you will be able to access your account from anywhere in the world. Now, you can monitor your progress and achieve your dreams of learning a new language. The best thing about it is that it is totally free!
Pricing of Duolingo
Duolingo for students is totally free and for other users too. They also have a Plus plan which cost $12.99 monthly and $79.99 yearly. This subscription plan eliminates ads while learning. It also makes it possible to download and learn offline while using the mobile application. Furthermore, Duolingo plus gives you unlimited life and a one free streak repair monthly. This means if you skip learning for a day, your streak will not be affected.
Minimum system requirement of Duolingo
Duolingo can work on all operation system. The mobile application is available for your IOS and Android. You can also log in with your browser (schools.duolingo.com). You can also log in on your computer's browser. As long as you have an internet connection, you can log into your student's account and begin learning.
Conclusion: Duolingo for students
In summary, Duolingo is a language learning platform that makes learning fun for students and everyone. It introduces the use of Gamification in learning. Duolingo has a user-friendly interface that makes it easy to use for everyone. As long as you can read and follow instructions, you will be able to use the application without any challenge.
Related: