Tools
How to get ClassDojo for students
ClassDojo is a digital behavioural management system which aim is to encourage positive behaviours in students. Additionally, it aims to also establish a means of communication between parents and teachers. They can interact frequently to discuss the development of students.
This platform works by letting students earn points based on their behaviour and conduct in the classroom. This keeps fostering and encouraging positive conduct with students. ClassDojo is a fun and exciting way for teachers to keep the classroom in order and make students well behaved. It uses photos and videos to connect parents, teachers and their wards. It also has a messaging feature which is one of its unique features. They have a translation service that can work for up to 35 languages and also a system that rates the progress of students.
How to get ClassDojo for students
Educators are the ones that will create their classes using ClassDojo before sending invites to students and parents. To begin using this platform, visit the ClassDojo website. When you are there, scroll down and sign up. You can sign up as a Teacher, Student, Parents, or School Leader. If you are a student, click on the student's button to proceed.
On the next page, you will choose the sign-in method you want. You can use a class code, QR code or using your Students Google account. Proceed using any of the three and then follow the instruction that follows.  Now the next time you want to log into the account, you can use do that easily using your details. Once you have successfully created a students account in ClassDojo, you can begin to monitor your progress and behaviour in the classroom.
How do ClassDojo works?
ClassDojo works in a very easy way. Educators can use their phones to take a photo in the classroom and share it with the parents of their wards. The photo can be of a project, students performing tasks, or anything else. Parents are kept in the loop of the student's activities in the classroom through ClassDojo. After submitting a project, teaches can publish it on the platform and assign grades just so the family can monitor and track the progress of their kids.
Teachers also have the chance to rate the behaviour of students using Dojo points. They can rate a negative or positive behaviour. Parents will be able to look at these scores and work with the teacher to help their students improve. To use ClassDojo for students, teachers need to do most of the work. They get to create every student's profile and then assign a cartoon character. Then they invite parents to join their class and monitor their ward's progress via email or text.
Features of ClassDojo
Some of the best features of ClassDojo that makes it a great application are: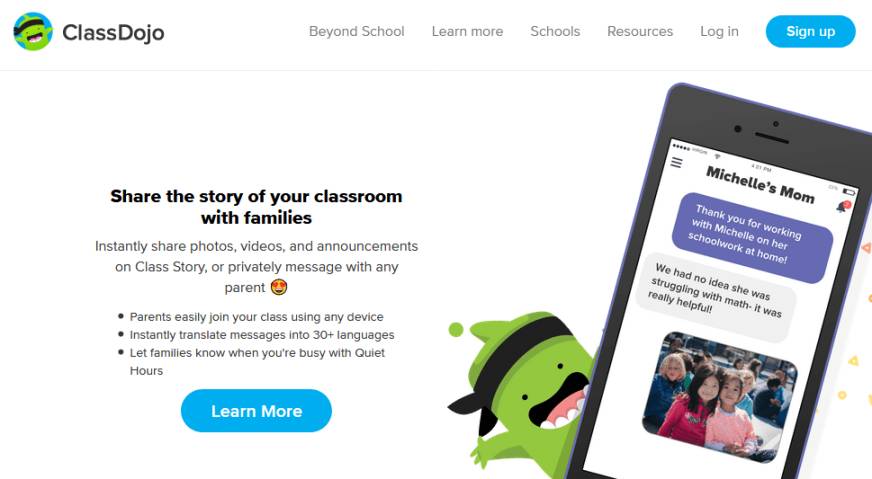 Multiplatform: ClassDojo works across every platform. Students, parents, and teachers can access it on their tablets, androids and computers easily.
Virtual Classes: Teachers can create as many virtual classes as they have. It would make it easy for parents to track their children progress in all subjects.
Sharing: It is very easy to share photos and videos with parents. The platform works just like Facebook social. There is a like and comment section for parents to show their approval.
Inbuilt messenger: When using ClassDojo, teachers can message as many parents as they want. They can discuss whatever they want to with them privately. This works like the Whatsapp application.
Points: Teachers can award points to students in ClassDojo for good behaviour. It could be for acing that test or keeping the classroom clean. They can also deduct a point for negative behaviours. Parents will be able to see all these and more.
ClassDojo for students: Pricing
ClassDojo is a free platform that helps to manage and build a positive classroom for both students and teachers. The platform purpose is to provide students with better and equal access to education.
The ClassDojo Beyond School is another subscription plan that requires payment. This plan offers upgraded and premium services to families that pay for it. They will be able to use it outside the classroom. You can only use it without being charged for the first seven days. You will have to cancel your subscription before 7 days elapses if you do not want to proceed.
ClassDojo is a free software for K-12 students, teachers and parents. It is a safe, fun, and easy educational app that aims to build an interactive environment for everyone involved.
Conclusion (ClassDojo for students)
In summary, ClassDojo is software that helps teachers to build an amazing classroom community for students and their parents. It lets them share photos, videos, and announcements with parents so that they will always know what their kids are up to academically. ClassDojo helps to build positive classroom culture. You can become part of this community by following the guide in this post.
Related: