Zoom is an engagement platform for students, teachers, and administration that can be used to enhance learning. It is an active tool in online learning for students at all levels. It does not matter where the learning is taking place, Zoom can help keep engagement alive. Technology has helped to expand education in a better way. Zoom can be used to deliver better online learning experiences. The software has lots of learning tools that have helped students to expand their access to education.
There are tons of benefits of Zoom. Students and teachers can stay connected outside the classroom using this platform. It ensures the continuity of academic without physical interaction. This post will guide you on how to get started on Zoom for students.
Zoom: Overview
The Zoom software was specially designed to be used for conduction online courses, training, meetings, and many more. It is an easy to use video conferencing software that helps to establish interaction in education. Students and teachers can connect to use the resources on the platform for academic purposes. Many educational institutions have been using Zoom to host and broadcast classes online. It has the capabilities to cater to hundreds of students.
Zoom has great video and audio quality. It also lets teachers share resources and materials with students. Even without the presence of an educator, students can connect and collaborate among themselves in teams. They can participate in group discussions or projects on Zoom. It has the features to help bridge the gap between students and teachers. Zoom provides a flexible learning environment for everyone.
How to get Zoom for students
Zoom is a video solution that creates a platform for students to connect with their teachers from anywhere in the world. Students can easily sign up on this platform and begin connecting with others. The first step is to navigate to Zoom education. Then, click on the Sign-Up button at the top of the page. Signing up on Zoom is free so there is no need to worry about charges.
Now, click on Zoom for free basic. To sign up, you will have to use your school's email address. Zoom will process your request and you will get a reply in minutes. After completion, you can begin to use this platform for intended educational purposes.
That's all! Creating a Students account for zoom is quite simple.
Features of Zoom
It is very effective and efficient software that can improve the educational experiences of users. There are lots of great features that make it one of the leading software for education and they are as follows:
Multi-Platform: Zoom has an application that is fully supported on Android and IOS devices. They can also sign into their account and start connecting on their mobile devices or computers.
Collaboration: This is one of the most powerful features of the tool. It enables collaboration and interaction among students and their educators. They can do this in any way they want using the rich tools on the platform.
Recording: Teachers can record a teaching session and upload it to be accessed by students.
Interaction: Zoom session call allow up to 500 students to participate actively. It can also allow thousands of viewers via their webinars.
Voice detection: When a person starts speaking, the primary camera view will automatically toggle to that person. This is through the help of a voice detection tool on Zoom.
Benefits of Zoom for students
Zoom is very easy to use platform that will pose no challenge to students. It provides an intuitive experience and they will begin to experiment with lots of features as time goes on. The software has a great video and audio quality so students do not have to worry about missing any part of classes. They can connect with their teachers from the comfort of their bedroom.
When introducing this platform to the classroom, it might seem strange at first but as time goes on, students will begin to experience another type of learning. Introvert students will have no problem engaging in class, unlike a traditional classroom. Zoom for students will open them to a new world of learning experience.
Zoom for students: Pricing
Zoom has a basic educational plan which is free and requires no charges. However, the features and capabilities available for users are quite basic. For more upgraded and enhanced version, you need a paid version. This allows users to customize education plan, cloud recording and transcription, LMS integration, access to a webinar, chat, phone, and many more.
The paid educational plan for Zoom starts at $1,800. It provides access to the following:
Host up to 300 participants
Single Sign-On
Recording Transcripts
Managed Domains Help Tooltip icon
User Management & Admin Dashboard Help Tooltip icon
School & University Branding
FERPA & GDPR Compliant
LMS & LTI Pro Integrations Help Tooltip icon
WGAC 2.1 AA Compliant Help Tooltip icon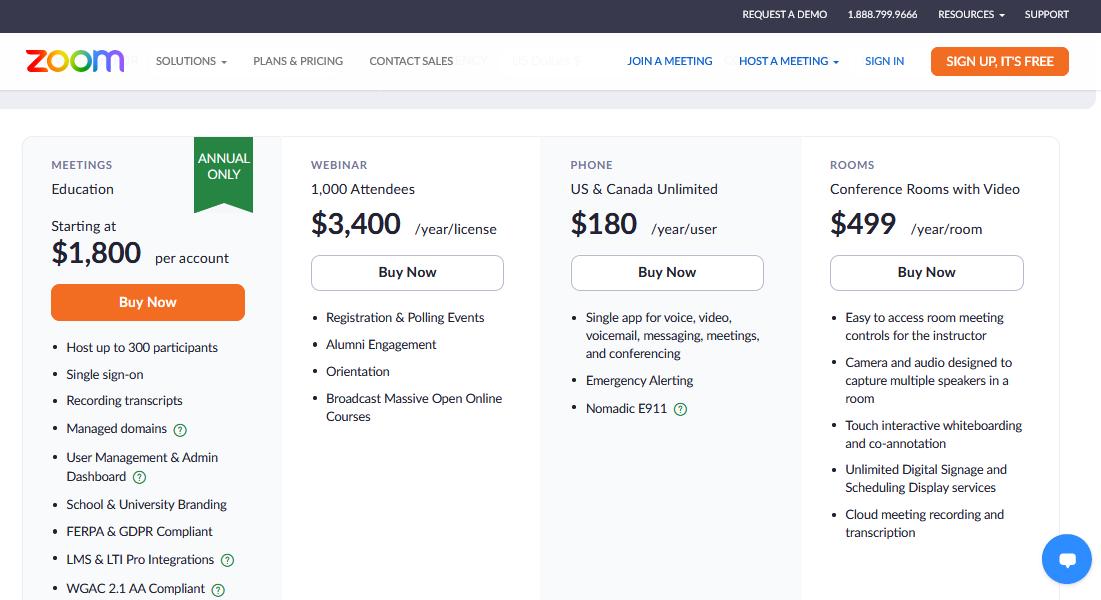 For more information on the pricing, you can check here.
Conclusion
In summary, Zoom is a great educational platform that can be used to establish a connection between students and teachers. It is very easy to sign up on the platform and begin a connection. Zoom is a great and upgraded tool that enables online learning and provides all the tools that can make it a success. Students should be able to sign up and join a class after going through this post about Zoom for students.
Related: