Software
How to download Tally student version
In this article, you will learn how to download Tally student version. You will also learn how to install it. Tally is a software that gives you a total solution. This solution is one that cuts across accounting compliance and full bookkeeping. Also, Tally.ERP 9 is widely used software. It is used for managing vital parts of your business. In simple terms, it helps you to manage accounting, sales, and purchase, inventory, manufacturing, and taxation. Others include payroll and management information system reporting, and so on. In addition, you have the GST Compliant invoice. This is used for Regular and Composite Dealers. Besides, you can create e-Way bills when your business needs it. With it, you will be able to file the most accurate GSTR-1, GSTR-3B, and GSTR-4 return.
Also, Tally Solutions PVT Limited has graciously made Tally.ERP 9 – Educational Version available for trial. To get it, just download and start using it. This software is compatible with the Windows operating system only. As of date, they are yet to provide a Mac version.
You have now learnt about what you can do with Tally.ERP. Now, let us show you how to get the tally student version this instant.
Features of Tally ERP student version
The software has a complete bookkeeping system. This includes accounting
you can use it for inventory management and payroll
besides you have GST-Compliant invoicing. This is needed for Regular and Composite Dealers
You are able to manage and generate e-Way Bills. This is depending on your business needs.
Get more of the features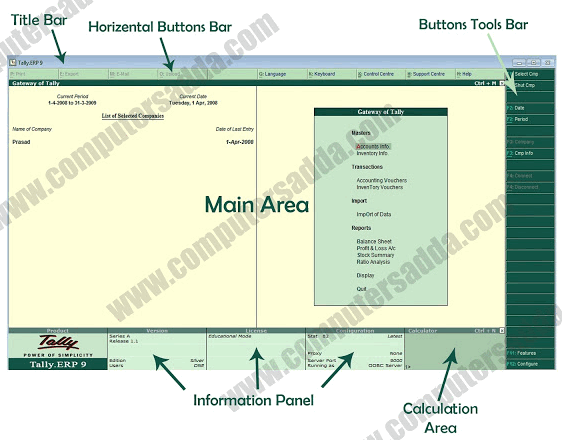 Limitations of Educational software
The educational version is limited. This is because you can only enter entries on the 1st and 2nd of each month. Many Tally.NET features are also disabled. So, you will not be able to experience Remote Access and other great capabilities of Tally.NET.
System requirements of Tally for students
Windows operating system: 64-bit editions of Microsoft XP/Server 2003/Vista/Server 2008/Windows 7/Windows 8/Server 2012, 150 MB vacant Space to install the application (Excluding Data)., 4 GB or extra, 1.8 GHz x86-64 architecture Intel Pentium, Core2 Duo, Dual-Core, Core i3, Core i5, Core i7 equivalent or higher. Learn more.
Steps to get Tally student version
Go to Tally educational page at https://www.tallyeducation.com/website/html/downloads/tallyerp9-educationalversion.php 
And click on the download centre tab.
Then, scroll to the bottom of the page. Now, click on the Install Now button
Also, at this point, the Tally setup executable file will show up automatically. So click on Save File. This will enable it to save it in your computer download folder.
Locate the file. Then, double click on it to run it.
When you start the installation, confirm it is on the default folder like (C:/Programs/Tally/Tally.ERP9). Next, click on the Install button.
Also, follow the screen instructions. Then, allow the software installation to complete.
Next, click on Done. This will open Tally automatically.
You do not need to ACTIVATE tally educational software with a serial number.
So, you can begin to use Tally ERP and Accounting software immediately.
That is how to download Tally student version and install it.
Learn how the software works with sample guides.
Also, learn about tally educational services for students.
Are you ready to buy? You can get a full license from their online web store.
Tally student version: Conclusion
In this post, we showed you how to download tally student version. Also, we showed you how to install it. For you to get the software, you need to visit the educational page. Then click on the download centre. Then, download and install the software. Gladly, you can start using the application directly as it does not need any activation key. However, the software has some limitations. There you can find when compared to the premium version. So, get it now.
RELATED: