Software
CorelDraw Student Version Download (Windows/Mac)
Learn how to download CorelDraw student version and how to get a free trial with installation guide. As a student that desire to be the best in the graphics design field, you would want the best software available to enhance your work. Whether you want to create greeting cards, calendars, photo projects, social media images or whatever you imagine, you need an intuitive and easy to use software like CorelDraw Graphics. This CorelDraw Home and Student 2019 suite, makes creativity simple. It has a new user interface and templates that you can navigate with ease. Also, it comes with tips, tricks, and tutorials that you can rely on any time you are stuck. Besides you can manage design elements, layers and pages using the new Objects docker.
Also, CorelDraw has many benefits like having non-destructive effects for bitmap and vector objects, giving you more control over your objects, layers, and pages, better pixel workflow for pixel-perfect documents and a new feature that enables you to work on the go with CorelDraw app. Furthermore, you can have Corel DRAW for free to test drive it for clear 15 days with no questions asked and no request for your credit card or payment information. This CorelDraw Graphics Suite 2019 retails at $602 while the CorelDraw Home and Student 2019 retails at $114.99. However, to get a discount of close to 96% of the retail price, you have to be an eligible student and buy from the resellers. So, to help you get this freebie easily we have prepared this post to show you how to download CorelDraw student version.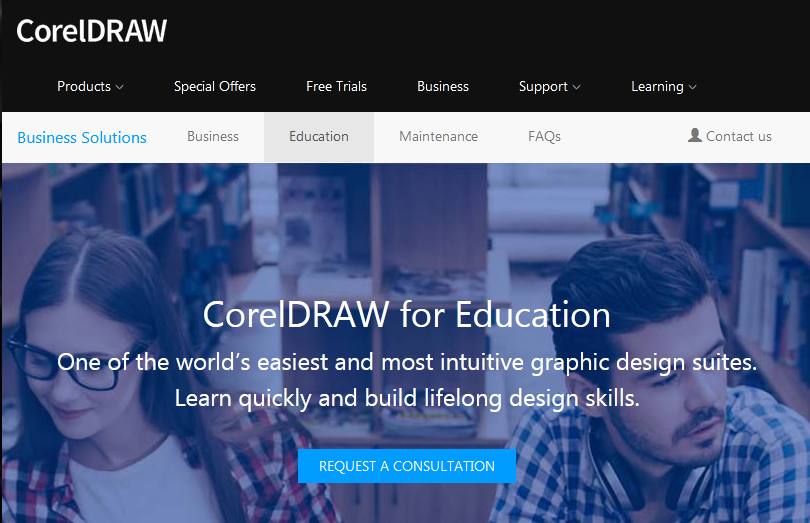 System requirements of CorelDraw student version
Windows OS: The minimum system requirement for the Windows operating system is Windows 10, 8.1and Windows 7. Also 32-bit or 64-bit, Service Packs Intel Core i3/5/7 or get AMD Athlon 64. 2 GB RAM, 2.5 GB hard disk space, and more.
macOS:  Whereas, the minimum requirement for macOS 10.14, 10.13 or 10.12, with the latest revision Multicore Intel processor with 64-bit support, 4 logical cores or higher, 2 GB RAM (8 GB RAM or more recommended) 4 GB hard disk space for application files, and more.
Eligibility to Get Student Discount
Any full or part-time registered students with valid photo student identification may buy through a Corel Authorized Education Reseller. But, if you don't have a photo ID, then two pieces of ID is needed. And the discount will be up to 96% of the retail price at the Corel website.
Downloading CorelDraw student version
Go to the website at https://www.CorelDraw.com/en/product/home-student/
Click on Buy now. It costs US$114.99 without buying from a reseller.
Enter your personal details, like your names and email city and zip code.
And then enter payment card information. That is your Credit card, Debit card or PayPal and so on and click on Continue.
Review your Order and then click Finish if you are satisfied.
Once your order is verified and accepted by Cleverbridge their payment processor, then you will get access to the product license and a download link by email.
Open your email and click on the link and download the CorelDraw Home and student edition into your computer.
Save the Installer for your operating system either Windows or Mac
And double click on the installer to Run. Run as Administrator and install the software on your computer. Just follow the installation prompts on the screen and click Finish at the end of the installation Or;
Follow the installation guide in this article. (See the guide below.)
That is how to get the CorelDraw student version.
How to cancel a purchased subscription
If you bought the software and you are dissatisfied, you have the right to revoke the contract (that is the purchase of a CorelDraw software) within fourteen (14) days without stating a reason. And to get the 30-day money-back guarantee. Just send an email to the Corel Corporation's payment processor at cs@cleverbridge.com.
Steps to download the free trial of the student version of CorelDraw
To begin the process, log in to the CorelDraw Website and look for the free trial offer
Click Download free trial or click free trial from the websites tab labeled free trials
Next, click Download Now, and underneath you will see (a full 15-day free trial of this CorelDraw Graphics Suite 2019 and no credit is card required message.)
Select your Operating system Windows or Mac.
And click on click Save file to save the CorelDraw _Graphics_Suite_2019_seo.exe binary file of 2.1 Megabytes installer in your Windows Computer download folder. Or CorelDraw _Graphics_Suite_2019installer.RW.dmg for MACOS.
How to Install the CorelDraw Premium software or free trial
Look for the CorelDraw Installer or executable file in your download folder. Then double click on the installer to open it.
Then accept terms and conditions of the Premium plan or the free trial and then click on Next
Enter your Information: On this page enter username, country, and click on whether you have a serial number or select that you don't have a serial number and want to try the product and click on Next.
If you have serial number locate the serial number from the email that Corel a reseller sent to you when you bought the Coreldraw student version software and copy and paste it into the slot for it on the installer.
Next, select the type of installation. You can choose from the "Typical installation. And the Custom installation" and click on Next.
Then select from the list all the programs you want to install in the CorelDraw Graphics Suite and click Next
Accept the Writing tools you want to install and click on Next
Agree to get an update from Corel and to create a shortcut of the product on your desktop and click on Next
Choose the default drive to install the software on.
Finally, click on the Install Now button. After the software completes installation;
You can then click on Finish and start using the software.
That is how to install the CorelDraw student version whether for the premium or trial software.
Conclusion
In the post, we explained how to download CorelDraw student version. Also, we gave you steps for getting the free trial and installing both the premium and free trial software. And you can use your premium software and upgrade when there is a new version. Also, the free trial of the premium suite will last for 15 days, and you can get it without a credit card. Finally, you also have a chance to get your money back with the Moneyback Guarantee. What more could you ask for? Enjoy the CorelDRAW graphics suite.
Related: