Tools
How to Get Synergy For Students
Our post today focuses on how to get synergy for students. As a student, you need software or tools than improves how you collaborate with classmates and teams. Using synergy can help you do that faster.
What is Synergy?
Synergy is a software and tool that you can use to share a keyboard and mouse between many computers. Also, you can use it as an individual to control many monitors. All you need to do is to smoothly move your mouse between the computers.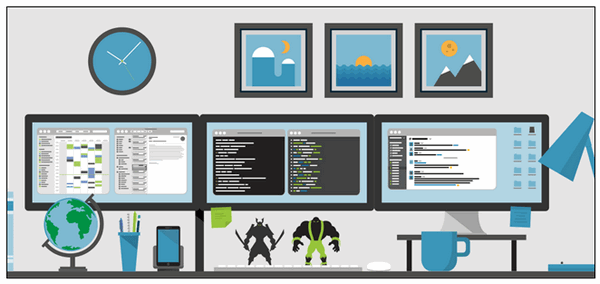 Furthermore, Symless is the company marketing the software. As at date, Synergy has over 2 million customers that include Apple, Salesforce, Disney, and Pixar and so on. In addition, you can set up the software by installing the app on each computer that you want to control, and sync them all.
Besides, some of its features include being able to organize how the computer screens are arranged inside the program and to activate the screen savers of all the computers at once. The app is supported by the Windows, Mac, and Linux operating systems. Additionally, you can drag and drop files easily. But this feature is limited and supported by Mac OS only. Now that you have a fair idea of some of its features, let us explore how to get synergy for students immediately.
Synergy for students
System requirements:
The software works over local area network and supports the Windows, macOS, Linux and Raspberry Pi. Learn more.

Steps to get the synergy for students
To get the software, visit the website's purchase page at https://symless.com/purchase
Select any of the plans and fill out your details to create an account.
Input your first and last name, email address and password.
Also, Check a radio button whether you want to get updates about the product and click on Continue and review.
You can purchase Synergy with two methods. Either with PayPal Promo Code or with payment Card.
As you can see, there is no student version of the synergy software. What you have is 100% Seamless guarantee to refund your money if you are not happy with the software.
So, complete your payment for the software by entering your card details and then click on pay.
Next, review your order and click on pay.
The payment processor will verify and charge your account for the plan you have chosen.
Then, you will get access to download the application and the license and begin to use your synergy app.
That is how to get synergy for students by buying the software.
Different Plans and Prices of Synergy Software
You buy the Synergy software for Personal use and Business. Here are the plans and their prices.
they are Synergy 1 Basic Edition at $29
and Synergy Pro Edition at $39
Finally, you have my Synergy which is a yearly plan at $19.
All the plans listed above are for single users. For a Business license, you will need to contact the customer's services.
Refund policy
If the product does not meet your expectations you can get a refund within 30 days of purchase. See details of the refund policy.
Features of the Synergy App
The features of the synergy app are enough incentives for you to get synergy for students. Let us go through some of them.
Screensaver Sync: the app activates the screensavers for all of your computers at the same time
Run in the Background: It runs on the Background to enable you to simply set and forget. This feature supports only Windows.
Hot Keys: You can customize keys bindings to other keys and specific actions
Key Swapping: You can change your Command and Windows modifier keys. This will make the key combos easier.
Drag and Drop Files: the drag and drop file feature is only available for Mac OS alpha version
SSL/TLS Encryption: It is able to encrypt all data sent between computers to keep sensitive information safe. But this is available for Pro edition only.
Mouse and keyboard sharing: Able to share your mouse and keyboard between Windows, Mac, and Linux computers.
Clipboard Sharing: Also you can copy and paste text and images between all of your computers.
Synergy For Students: Conclusion
This article is on how to get synergy for students. However, we found out that student version of this software isn't available. What you will get is even better. You will get a 100 % guarantee of a refund if you are not satisfied with the software subject to their refund policy. So, go ahead and get the application and begin to control multiple computers with one keyboard and mouse in your school.
RELATED: