Others
How to get Clever for students
Clever is a learning management solution that helps to make education more engaging for students and educators. Clever for students also provides a platform that aids educators and teachers to handle management, communication, and engagement. Educators can sign up and create profiles so that they can connect with students online. They can upload learning resources, monitor engagement, interact with students, and perform as many activities as possible.
The platform has a library that lets students access and browse learning materials based on their grade levels, subjects, and peer reviews. Teachers on the other hand can monitor student engagement. They can generate reports on their logins, assignment completions, and so on. It also opens two-way communication with parents and teachers. This post is going to further explain how to start using Clever for students.
How to get Clever for students
Clever has found ways to simplify online learning. Students can easily log in and begin to use the application. The first step is to navigate to Clever.com and then click on the login as a student button. The next page will reveal a search box to search for your school. You can search for your school or simply use your Clever badge to log in. Your username and password will be your Google apps. Once you are in, click on the application you want to use and start working.
That's how easy it is to start using Clever as a student.
Features of Clever
Clever comes with amazing features which makes it a reliable educational tool. Some of the features of Clever that students and teachers will have access to include:
Activity Dashboard
Alerts/Notifications
Communication Management
Curriculum Management
Customizable Categories
Parent/Student Portal
Password Management
Reporting & Statistics
Reporting/Analytics
Resource Management
School District
Single Sign-On
Student Information/Records
Student Management
Third-Party Integrations
Benefits of Clever for students
Clever is a digital platform that encourages the use of technology with learning. It is a very easy and simple application to use. Clever is highly beneficial to students as it provides a messaging feature that makes it possible to quickly send messages. Teachers, parents, and learners can message themselves safely on the platform. Furthermore, educators can also connect with parents to give feedback on the performance of their children. They can also interact with students on assignments and projects.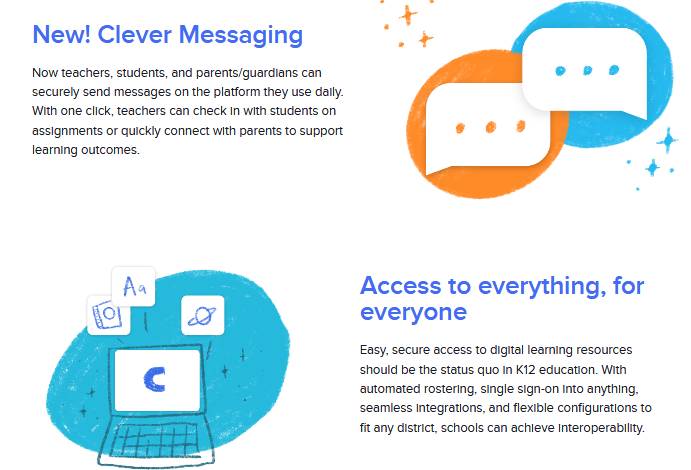 Students should have easy access to learning materials and tools that aims to make education a success. Clever is an app that provides automation in everything. It is very flexible and students can access resources in or outside of a classroom. As long as they have an internet connection, they can still stay connected with their learning even if they are miles from school. All the digital resources they need to stay on top of learning is within their reach. Clever creates a digital learning environment that has everything to make learning a fun and exciting experience. Educators can personalize and customize their digital classes to students need. They can monitor students participation and offer help to those that are struggling. They do all this in the Clever platform and making use of the tools available.
Pricing of Clever
The Clever for students software does not have a free version for schools (students/teachers). They offer three different paid subscriptions with different features to their users.
The Secure Sync Lite is billed at $12 monthly and its features include:
Developer sandbox
Clever Certification
Automatic compatibility with open standards
The Secure Sync starts at $18 and has the following features:
Developer sandbox
Clever Certification
Automatic compatibility with open standards
Extra developer sandbox
Lastly, we have the Secure Sync Enterprise and which is $15 monthly with the following features:
All features in the Secure Sync plan
Extra developer sandbox
Uptime and support SLA
Customized co-marketing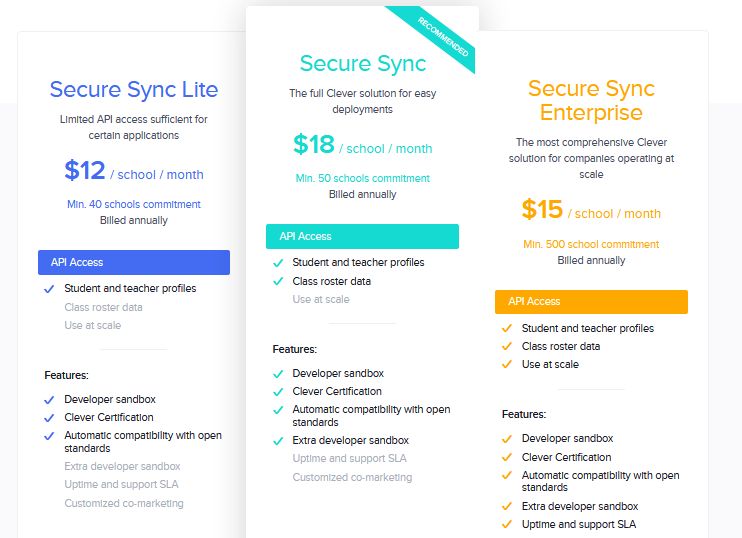 Lastly, if any of these plans do not fit your need, then you can also contact Clever for a customized plan. You can check more on the pricing plan here (https://clever.com/pricing).
Clever for students: Conclusion
In summary, students can log in to their accounts and begin to use Clever without any difficulty. It is a friendly digital platform that has continued to simplify the learning process. Students can get everything they need with just a single click. Teachers can also monitor and track what the students are up to and whether they are struggling or not. Parents can also get engaged with their wards education. It is a widely used educational application that can enrich and enhance the learning experience for everyone involved.
Related: