Tools
How to get Canva for students
Canva is a free and simple designing tool that is used to create. Canva offers a free education plan for teachers and their students. With the Canva for students platform, students will be able to give life to their ideas using this platform. They will also be able to learn and equip themselves with the knowledge that will help them in the future. With Canva, they have access to millions of stock photos, templates, and so on. This post is going to guide students on how they can join the Canva community without paying.
The Canva software provides professionals, students, educators, and individuals a platform that will let them create high-quality graphics. It is a web-based solution that has tons of features that help in giving life to designs. Canva has a simple and easy to use drag and drop interface. There are various graphics, fonts, and photographs on the platform that makes it a wonderful designing tool.
Students can access this platform and begin to create stunning and impressive designs. They have a free plan that students can use to gain the skills and knowledge they need to help in their career. Canva is a reliable and easy to use solution. Whether you want to print out your design or use it online, it is there for you.'
Students that want to begin creating a professional-looking design for academic purpose should be part of the Canva community. They can create logos, posters, charts, and many more.
Benefits of Canva for students
Students that are using Canva enjoy many benefits that the platform gives them. Whether they are expert or new to designing, they have access to a platform that lets them create amazing graphics. Every design student needs to know how Canva works as it is a very popular tool. The best way to do that is to have access to its free plan for students.
The software provides tons of images, templates, and fonts which makes it possible for every user to build original designs from scratch. They can create brands for businesses using the features and tools provided by Canva. It is easy to edit the many built-in templates and designs that are already embedded inside the design. This means users do not have to go through the stress of creating theirs. They can edit it to match whatever they are creating.
Students can create stunning and professional looking designs with Canva.  It is a user-friendly application.
Features of Canva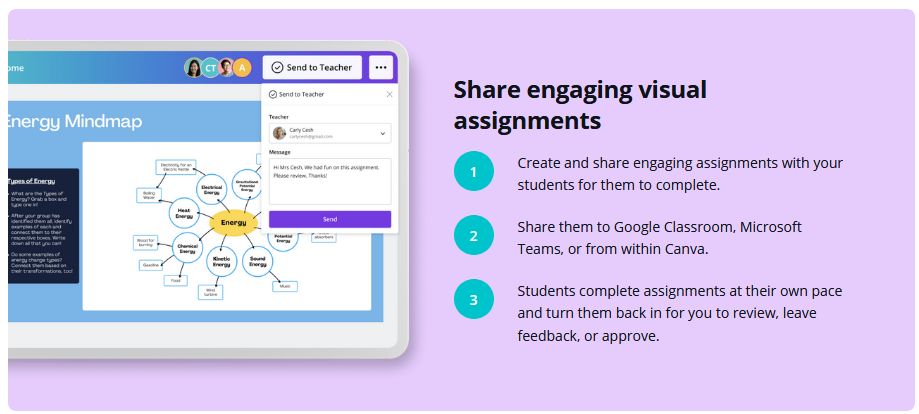 Some amazing features include:
Add text to photos
Add Texture
8,000 built-in Templates
Design grids
Free Icons
Image Cropper
Image Transparency Tool
Photo Enhancer
Photo Frames
Web Wireframe
Badges
Photo Blur
How to get Canva for students
It is very easy to get Canva as students. All it requires is for your teacher to sign up using the school email. To do this, go to the https://www.canva.com/education. Then click on the Sign-Up button. The next page will ask you to sign up using your email or Facebook account. The teacher will need to use the school's email to sign up. Then they will have to verify their account and that's all. Once the teacher has signed up for Canva, they can start inviting students to their class using Google Classroom.
Students will now have access to the platform that will equip them with the necessary tools to bring their design to life. It is totally free for students to use.
Pricing of Canva
Once you stop being students, you will no longer have access to the Pro features of Canva. They have a basic plan which is free but with limited resources. The Canva Pro is $12.99 monthly and $119.99 yearly. This plan has the basic features and lots of premium ones. Then the enterprise plan is $30.00 monthly. This plan is usually for an organization.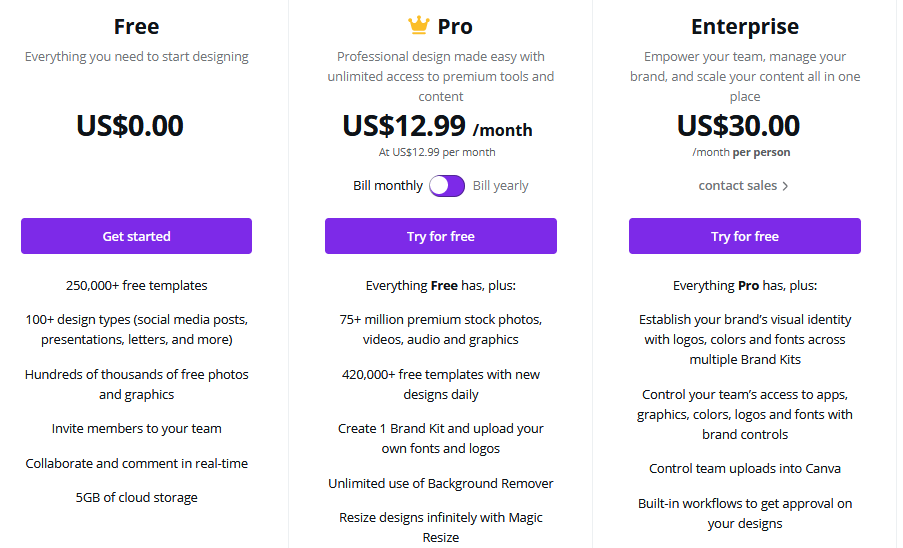 You can either choose to stick with the Basic plan or the Premium if you want to continue using the Canva software for designing.
Canva for students: Conclusion
Finally, to use the Canva for students plan for education, your teacher will have to sign up and send you an invite to the class. Once you join, you will be able to use the platform in designing, branding and bringing life to your ideas. Canva is a powerful designing tool that can help you in more ways than you can imagine.
Related: