In this post, you will learn how to get MLB TV for students. What is MLB? MLB TV is an American pay television for watching key League Baseball games, live through a high-speed Internet connection. You can also, listen by audio and watch high definition quality video shows, of the out of market major league baseball games for a whole season. Furthermore, you have the All teams and Single team subscription plans and you can choose a monthly or annual payment structure. And, because the broadcast comes directly from the MLB, you are able to stream games you like using your devices. Some of its top rate features include DVR controls, multi-view, complete game archives, catch-up and so on.
Beginning from September 2019 MLB playoff season, students can get access to watch MLB. TV-free when they activate a student subscription. Also, due to the back to school promo, you can now watch the postseason live or on-demand on your preferred devices. Besides, eligible military officers and students can get a 35% discount on subscriptions to MLB TV premium. Although these games are subject to blackout restrictions, if you watch from outside the US you will not suffer any blackouts. So keep that in mind and confirm the status of your local area. However, you can watch the game that suffered a blackout in about 90 minutes after the game ends. Now that we know how the MLB games works, let us show you how to get the MLB TV for students.
How to get MLB TV for students
Limitation of Service
Check local restrictions and note the disclaimer. Games are subject to local, regional or national blackouts. So, before you subscribe, check local restrictions on the MLB website.
Steps for getting MLB TV for students
Go to https://www.mlb.com/
Then click on the profile icon on the top right corner of the MLB.com page
On the Login or register page, click on Register
Then enter your student .edu email address and create a password and enter your date of birth, agree to receive email from MLB and terms of use.
Then click on Register and get your free MLB.com account.
Next, you have to authenticate your student credentials with the ID.me website.
To make verification faster, go to the ID.me website and create an account there. Then, apply the 2-factor authentication and pick either to get a call on your phone or text message, then confirm your email address.
And then choose a verification method and supply the required documents.
Once ID.me confirms your student credentials then you can get access to MLB free.
Now visit the MLB postseason games page to learn more and start watching.
That is how to get MLB TV for students.
Features of the Postseason shows
Watch every Postseason game live on your favorite supported devices
Full game archives available after every game
Listen to every Postseason game LIVE
No blackouts outside of the U.S.
MLB.TV subscription will expire on or about March 25, 2020, and will not be automatically renewed annually.
How to get a student discount of MLB TV
When the postseason playoff shows end in March 2020, you can apply for a student discount and get up to a 35% discount on MLB TV.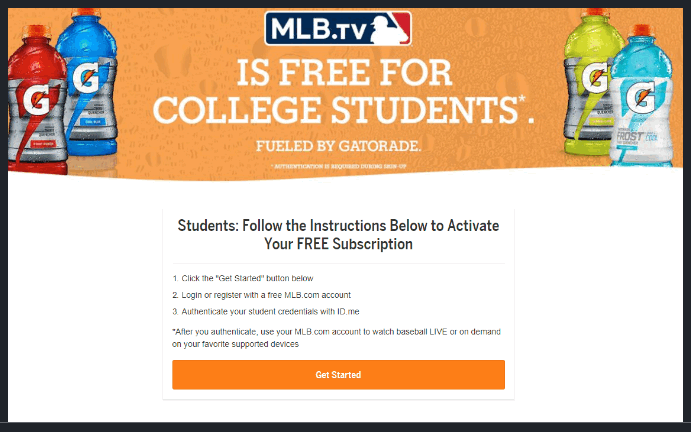 Follow these steps.
Go to the ID.me Shop and click on  the MLB product or go directly to https://www.mlb.com/
Select a package or plan and pricing choice and click Buy Now.
Then Sign-in to your MLB TV account. Also, you may choose to continue as a Guest.
And then, fill out all of the fields in the form and click on the blue "Student ID" button.
Also, Sign in to your Student ID account, or create an account if you are new to ID.me.
Therefore, once ID.me verifies your ID and authorizes the verification, you will receive the student discount automatically on checkout.
That is how to get MLB TV for students.
On what devices can a student stream MLB TV shows?
The devices include Amazon Fire Stick, Fire TV, Fire tablets, and Fire phone; Roku, Google TV, TiVo, Nvidia Shield, PlayStation 3 and 4, Xbox One, Nintendo Wii and so on.
Spectacular features of MLB TV
Here are some of the features you will enjoy as you use the MLB TV platform.
There is DVR control which allows you to pause and rewind games at your ease.
Besides you can watch up to four games at once with Multi-view feature
Also, watch the World Series if you subscribe to MLB.TV- All Teams, the benefit is that you will view the 2019 All-Star Game and World Series games.
Furthermore, you have full game archives that let you watch any game 90 minutes after it ends.
And Catch-up gives you a 90-second recap of any game in progress before you start watching it. However, only Apple TV 4 has this feature presently.
Finally, you have the home and away broadcast
MLB TV pricing
When the MLB TV postseason playoff shows end, you may consider upgrading to a better and more affordable plan. Here are the plans you may consider. And you will get them lower at discount.
you have the annual plan for all teams at $118.99
there is the $24.99 per month plan for all teams
and the annual plan at $91.99 for a single team
Conclusion
In this post, we shared how to get MLB TV for students. Additionally, you can watch the postseason playoff shows free if you are a US student. But you need to verify your student status by registering with ID.me. Besides, you can get a student discount of up to 35% any time you subscribe to MLB using the student pricing.
RELATED: