Adobe
Photoshop Student Version Download – Windows/Mac Full Version
As a student that love to make graphic designs, getting software would be top on your agenda. That is why this article on the photoshop student version is written. And so, to grant you that wish, in this article, we will explain how to download Photoshop for students. But, you have to buy it at a discount if you are eligible.
Do students get Photoshop for free?
Adobe Photoshop is software that is highly advanced and that you can use for digital imaging. Besides, it is used mainly by photographers, designers, web professionals, and video professionals. As a student, the Photoshop app enables you to use your creative powers at its highest for 2D and 3D image manipulation, compositing, video editing, and image analysis. In addition, because Photoshop is part of Adobe Creative Cloud, a student will be able to get access to all the latest updates and future releases the instant they are available.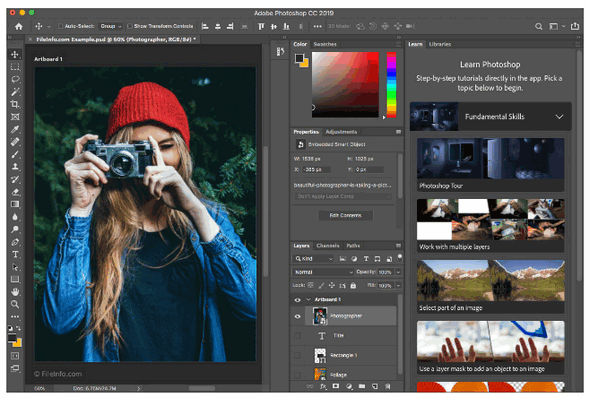 Also, the Creative Cloud suite has over 20 apps including Photoshop, Illustrator, and InDesign. So, you can get apps for photography, design, video, and so on. Therefore, you cannot get Photoshop for free as a student. If you want to buy Photoshop student version, you will have to pay for either a Standard plan or a student plan. Besides, if you use the Creative Cloud as a student, you will buy it at a discount of 60% applicable for students and teachers. Then the student plan will cost $19.99 per month while the standard plan will cost $52.99 per month. But, if you wish to test the software before you buy, you can also get a free trial of photoshop on the platform. However, in this post, we will show you how to get the Adobe Photoshop student version to enjoy the 60 % discount. Let us start now.
Photoshop student version – Terms and conditions
To be eligible you must be a student 13 and older or a teacher to buy an Adobe Creative Cloud Complete subscription at the bargain price of $239.88/year ( at $19.99/month) for 12 months. However, at the end of the 1 year, you will buy software at the normal price of US$359.99/year (US$29.99/mo) except you change or cancel your subscription.
System requirements
Before you buy the Photoshop application as a student, get the full system requirements for your Creative Cloud app. See System requirements | Creative Cloud.
Steps to get Photoshop student version
Start from Adobe page at https://www.adobe.com/creativecloud/buy/students.html
Click on "Buy Now"
Next, enter your Email and click on the "Continue" key.
And, sign in to continue. So, enter your password.
Note, that if you don't have an Adobe account you will get a prompt to create one. Just follow on-screen instructions.
And then, add your payment method like a Credit Card or Debit card. (Note that the All Apps Creative Cloud student plan is automatically selected for you.)
Then click continue to Verification.
At this point, Adobe payment processors will verify your payment card and if it is charged then you can get access to the Creative Cloud Suite to download Photoshop to your computer.
You may need to Sign in to the Creative Cloud website again using your Adobe ID and password.
Next, click either Download or Install near the Photoshop you want to download. And the app will start downloading immediately.
Also, you may choose to follow onscreen instructions to install the app on your desktop computers and start using it immediately.
So, start using the Photoshop student version and other apps in Creative Cloud suite.
Learn more about the Creative Cloud.
Conclusion on how to get Photoshop for students

In this post, we shared how to download Photoshop student version. Also, you can get the student version in the creative cloud suite at a discount for 1 year. All you need to do is visit the creative cloud website. And select the student version of the software, pay for it and download software into your computer. You can also get a free trial of any Adobe software by just entering your credit card information. Try it now.
RELATED: