Updates
Quicken Latest Version Download – Full Version for Windows/Mac
The Quicken latest version is automatically available to new users. The recent updates come with new features and solutions to all its stability issues. The most recent update of Quickens is available for download to all new and old users. Quicken is a tool that provides a platform for personal finance management. The software has all the features and tools that will help you plan and manage your finances. Quicken helps to speed up those financial activities that are usually done manually.
The software has the right tools to record bank transactions, track investments, prepare financial budgets, and much more. There have been tons of Quicken editions that are used in homes and organizations for basic complex finance tasks. The kind of activities you will be able to perform on the Quicken platform depends on the type of subscription plan you choose to purchase. They have tons of plans to meet and exceed the expectations of various users. This post will guide you on how you can download Quicken and get your finances in check.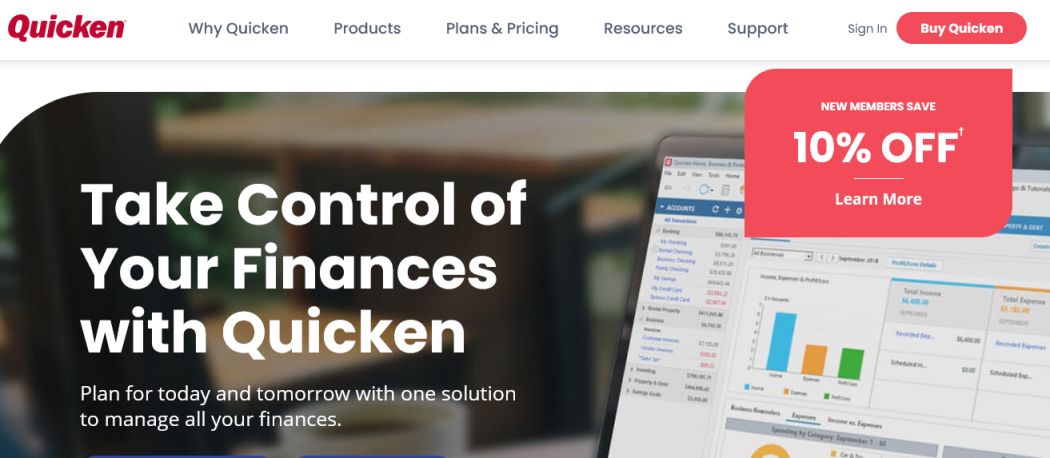 Downloading Quicken Latest Version
You can easily download Quicken and become a part of the platform. To proceed, you need to go to the official website of Quicken. When on the page, you will see a button to download Quicken. There are two downloads there – Windows and Mac. Choose the one for your operating system to proceed. Quicken is not free, so as a new user you will have to purchase the latest version of Quicken. Although it is not free software, they offer a free trial which we will discuss more later. Click on the Buy now button on the right plan that will meet your needs.
On the next page, you will have to enter your payment details to proceed. Input your debit card information to proceed with your purchase. Provide the answers to the information on this page and then click on submit order. You will get all the information necessary to successfully complete your purchase and buy Quicken. Even though you paid for this plan, Quicken has a 30 days money-back guarantee order. So, if you purchase the latest version of Quicken and it does not meet your expectations, you can cancel your payment before 30 days elapse and get your money back. This is the best way to get Quicken as a new user. Existing users can simply update their software to access all new features and functions.
Pricing of Quicken
Whichever version of Quicken you decide to buy, you will have to pay for the software. Quicken is not free, however, they offer users a 30 days money-back guarantee. If you purchase Quicken, you can cancel your payment and get your money back within a month. This means your subscription must not exceed 30 days. Quicken has numerous payment plans. To get the latest version of Quicken, you can choose from any of their plans.
The Starter plan is $35.99 per year, Deluxe is $46.79 yearly, Premier is $70.19 and Home & Business is $93.59. The most popular Quicken plan is the Deluxe plan. It provides necessary tools and features that can help in saving and managing your money. The Premier Plan is the best if you want the best value for your money. You can go through all the features in Quicken pricing plans and choose the right one for your business.
System requirements of Quicken
Quicken is a software that is multiplatform as it can run smoothly on Windows, Mac, and mobile devices. Before proceeding to download the latest version of Quicken, you need to ensure your device meets up its requirements. Below are Quicken's specifications on numerous platforms.
Minimum requirements to run Quicken latest version on:
Windows
Operating System: Windows 7, 8, 8.1, and 10
Processor: 1 GHz or higher
Memory: 1 GB
Hard Disk Space: 450 MB / 1.5 GB without .NET
Monitor: 1024 X 768/ 1280 X 1024
Mac
Operating System: Mac OS X 10.12, 10.13, 10.14 or later
Processor: Intel Based
Hard Disk Space: 450 MB / 1.5 GB without .NET
Monitor: 1280 X 800
Mobile
IOS 9 or later (iPhone, iPad, or iPod Touch)
Android 4.1 or higher
Conclusion
Quicken latest version is available on their website for everyone to purchase and download. Once you purchase the software, you can start exploring and using it to manage your finances. There are tons of features on the software that will meet all of your expectations. If you are a new user, then you can also gain access to the recent version of Quicken by updating your software. Quicken is a great tool to plan and manage your financial activities. The planning you do on paper can also be done automatically and fast via this platform. It is a great tool you can commit to as a business owner.