Software
How to Get Tableau Student License – Full Version for Windows/Mac
In this article, we will explain how to download and get Tableau student license. Besides, if you want software that gives you the solutions for understanding data, then you have to get Tableau. As we write this, more than 57,000 customer accounts, are getting fast results with Tableau in the office and for active people. The software has changed the way people use data for solving problems. And it makes the analyses of data quick, simple, attractive and practical. Moreover, everyone can use the software because it is in a dashboard and worksheet form. Furthermore, Businesses use it for quick analyses and visualization of data. The Tableau software also has other software in its portfolio like Tableau Desktop, VizQ, Live Query Engine, In-Memory Data Engine, Tableau Public and Tableau Mobile.
Furthermore, Tableau offers Students Program for you to apply for its visualization software. However, for you to qualify to get a free license through the Tableau for Students program, you must be enrolled at an accredited academic institution at the K-12 currently. Students all over the world can apply and be ready to confirm their claims by uploading documents to a third-party verification service called SheerID validate their claim. And once it is confirmed, then you will get a chance to download the desktop academic suite. In addition, the Tableau Suite contains Tableau Desktop, Tableau Prep, and Tableau Public. As you can see, you need the software for your academic wellbeing. And to help you get it, here are the steps to download the Tableau for students.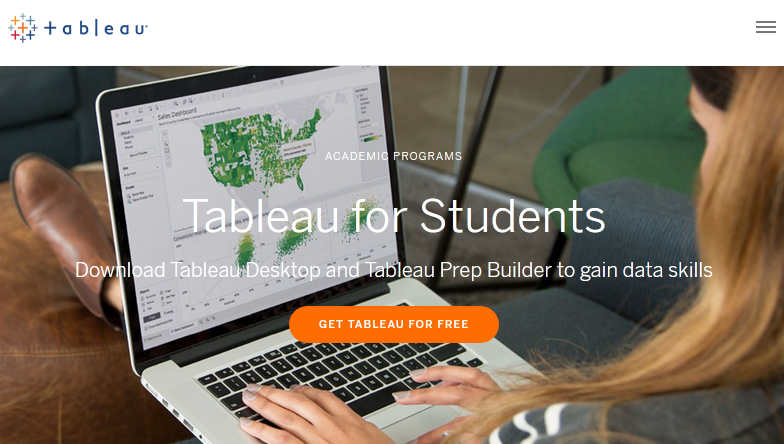 Limitation of Tableau student license
You can use the license for a year subject to renewal and further verification when it expires.  Also, the student license of Tableau restricts you to use it for Desktop only. And you are not allowed to use the Tableau Online software.
Tableau desktop system requirements
Windows PC: Windows 7 or latest, (64 bit), Intel Pentium 4 or AMD Opteron processor or faster, 2 GB memory, 1.5 GB minimum disk space that is free. Check the System Requirements.
Mac oS: iMac/MacBook computers 2009 or latest, Mac Os 10.11 or newer, at least 1.5 GB free disk space. See the System Requirements.
Downloading Tableau for students
Go to the Tableau website and fill the form https://www.tableau.com/academic/students#form
Enter your country, college email address and the name of your school.
And then click on Verify and Continue
The information you submitted will be verified by third a party service called by SheerID. See SheerID FAQs.
Next, upload your student document to SheerID for verification. The documents to upload include student ID card showing the date of validity, course schedule showing the current term and copy of an unofficial transcript.
Once SheerID confirms that your document is authentic, Tableau will approve your request for student license valid for 1 year.
And then the Tableau team will get in touch with you by email and send you the product key or license for activating the software.
And you will also get access to download the Tableau Academic suite which contains Tableau Desktop, Tableau Prep, and Tableau Public.
You may also download the latest version of the software when you visit Tableau Desktop here.  When you click that link, an automatic download of the software will display on your screen. So, Save the file on your computer download folder.
After download, locate the Tableau file on your computer download folder and double-click on it to run and install it on your desktop.
And then enter the product license to activate the software and begin to use the software for 1 year.
That is how to how to download Tableau for students.
Tableau student license – Conclusion.
In this article, we explored how to download Tableau for students. You can download the software simply by going to the website page and filling a form using your school email address. Also, you will have to upload your School identity card and document needed for SheerID to confirm that you are truly a student. After doing that, you will get an email with a download link and a product key to activate the software. Furthermore, you can start visualizing and sharing your work with your classmates and team right away. Get the software immediately.
Related: