Updates
QuickBooks Latest Version Download (Windows/Mac)
The latest version of QuickBooks is the Desktop Pro Plus which comes with automatic data backup, unlimited customer support, and lots of upgraded features. QuickBooks is commercial off-the-shelf accounting software. It is software that is highly recommended for a business that is just starting up. They can use it to keep accurate records, produce professional reports and minimize time spent on recurring tasks. The Intuit program is used worldwide and they have millions of users.
QuickBooks has two main products which are the Desktop and Online. The latter is hosted online and can be accessed through any internet-connected web browser while the former is available for computer installation. If you are working remotely, then QuickBooks Online is a more suitable choice for you.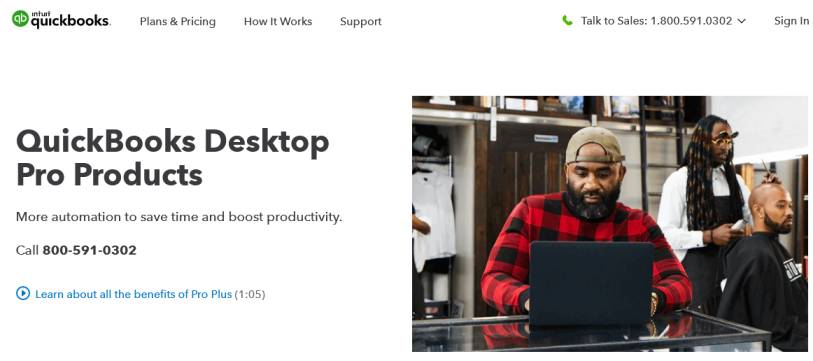 QuickBooks: Overview
QuickBooks is software that is used by businesses for accounting purposes. The software enhances productivity and saves time. It is smart accounting software that can meet up the needs of startups and small businesses. It can be useful in customizing invoices, tracking expenses, running reports, and much more. QuickBooks is a powerful accounting tool that helps with organization and time management. The 2021 release is QuickBooks is its latest version and it comes with features that improve the software's capability. This article is an overview of the new version and how users can download it.
Downloading QuickBooks latest version
The Quickbooks Desktop Pro Plus is the 2021 latest version of the software. To download it, the first step is to navigate to the official website. When on the page, you will see the three available versions of the accounting software. The three versions have their own services and functions. Their prices are also different, so you have to go through their functions and choose the best one for your business.
System requirements of QuickBooks
Before you proceed to get the latest version of QuickBooks, you need to ensure the smooth running of the software. Every program has its own set of requirements and QuickBooks is no different. The technical requirements of the software are as follows:
The latest and updated version of Windows 8.1, 10
4 GHz processor
4GB RAM and 8GB recommended
5 HDD Space
Product registration
4x DVD-ROM drive
1280 X 1024 screen resolution
Internet Explorer 11
Internet connection of 1 MBPS speed
Features of the latest version of QuickBooks
Streamlined bank feeds
This feature comes with the latest version of QuickBooks.  This means you can save yourself from the stress and time of always inputting your banking transactions. You can automate the process by using batch editing, enhanced rules, and improved matching feature. It lets you batch edit transactions by accounts, classes, and payees.
Rule-Based Customer Groups
This feature will help improve your customer management and insights. You can create rule-based customer groups using details like customer type, location, status, and balance. This will make it easier to organize and also manage your customers.
Automated Receipt Management
This feature is only available in the latest version of QuickBooks. This feature helps business owners to automatically create receipt transactions when using the Desktop Mobile Application. They can capture receipt data easily instead of entering them manually.
Automated Statements
This feature helps managers to quickly send their customers their overdue balance automatically. These statements can be customized to meet the needs of every customer.  When sending them, they can also include payment links just so the customers can pay it back with ease.
Pricing of the latest version of QuickBooks
The Pro Plus 2021 is the first latest version of QuickBooks which is $199.99 annually. Its few subscription functions are:
Mobile app-based receipt management
Collaboration with 1 to 3 users
Organization of business finances
Automatic data backup and recovery
Importing data from Excel, Quicken, and others
Easy to set up and use
The Pro Plus 2021 + Payroll is also another and it is about $599.99 per year. It has all the features of the first one including some payroll features which includes:
Payroll taxes calculations
Faster and easier payroll
Free direct deposit and printed checks
Live 24/7 support via phone and chat
Lastly on the latest version of QuickBooks is the Enterprise 21.0 which is $1147.40 annually and it also includes all features of pro, premier, and the following:
6 times the capacity of Pro and Pro Plus
More than 200+ report templates or customizing your own from scratch
Advanced inventory and order fulfilment tools
Choose from 6 different industry-specific versions of Enterprise
Automated pricing rules
Whichever version of QuickBooks you choose to buy, you will have access to the following add-ons – Payroll, and Remote access via hosting.
Conclusion
Finally, you can easily get the latest version of QuickBooks following the step above. The software is available to provide all the necessary features to simplify your business accounting needs.
Related: